I'm encountering a strange graphical glitch in the (unfinished) community center.
Sometimes, when I enter, this one tile near the junimo hut does not display properly.
The weird thing is, when I exit and re-enter the community center, it displays normally.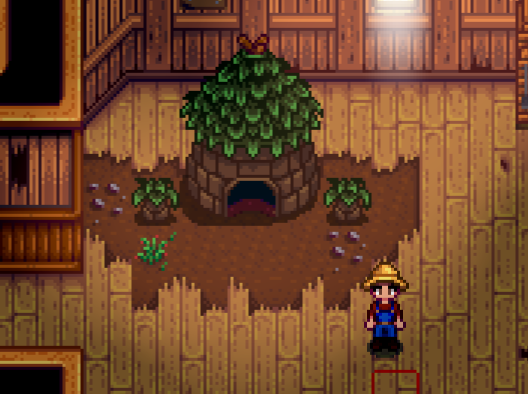 But if I exit and re-enter again, it's gone again. I exited and re-entered several times in a row and it seems like it's glitching out every other time I enter.
I occasionally make texture mods, so I uninstalled and reinstalled Stardew to make sure that I hadn't somehow messed up the image for the tile, but it didn't change anything. I'm not running SMAPI and have no mods installed, and even if I did, the fact that the other tile with the pebbles displays normally and that it's only happening every other time I enter makes me think it's not an issue with the texture sheet itself.
If it helps, I first noticed the glitched tile when I viewed the cutscene where Lewis goes into the community center with you for the first time.