Do you want more items to
hoard
, I mean collect and decorate your room? Have you fished all fishes and mined all minerals, and need something to fuel your collecting addiction? You have came to the right place!
- Description
This mod adds 30 new insects as foraging items to collect or sell for money. Each season has 10 different insects to find, winter has no collectable as insects are hidden, waiting for spring.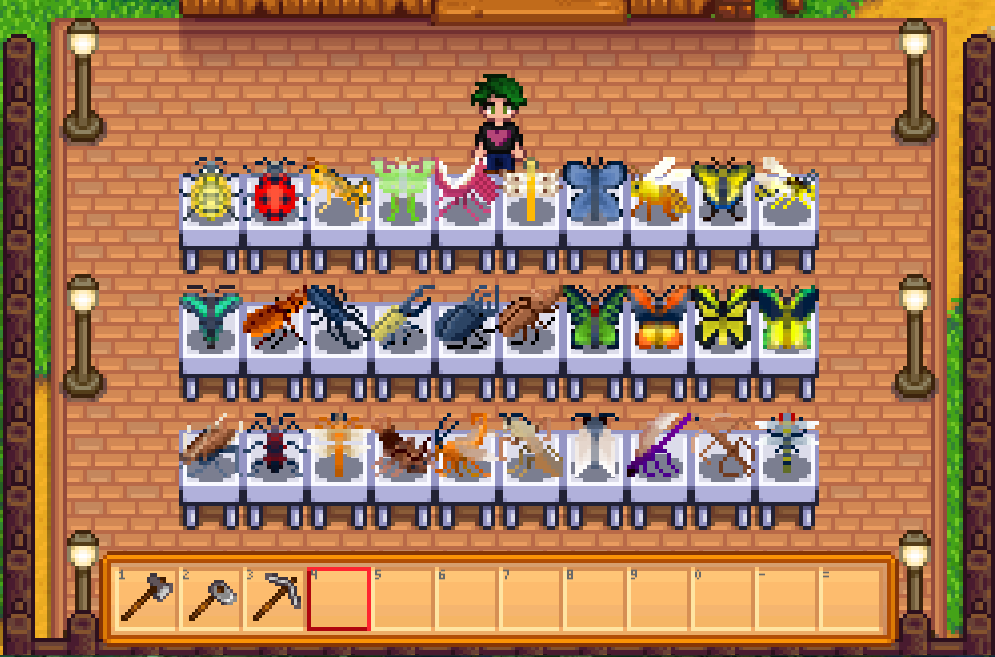 - Species List

Spring

- 22 Spot Ladybird
- 7 Spot Ladybug
- Easter Lubber Grasshopper
- Luna Moth
- Orchid Mantis
- Painted Skimmer
- Spring Azure Butterfly
- Wild Honey Bee
- Tiger Swallowtail Butterfly
- Yellowjacket

Summer

- Common Bluebottle Butterfly
- Elephant Beetle
- Giraffe Stag
- Hercules Beetle
- Horned Atlas
- Horned Dynastid
- Raja Brooke's Birdwing
- Wallace's Golden Birdwing
- Goliath Birdwing
- Cairn's Birdwing

Fall

-Bell Cricket
- Boxelder bug
- Common Darter
- Common Earwig
- Common Scorpionfly
- Dead Leaf Mantis
- Giant Cicada
- Variant Dancer
- Walking Stick
- Yellow-Tipped Tigertail
- Requirements
SMAPI 3.9.5 +
Json Assets 1.7.6 +
Farm Type Manager
- Extras
My very first mod for Stardew Valley, criticism is welcome.
If you wish to use the sprites for your own mod please contact me beforehand.