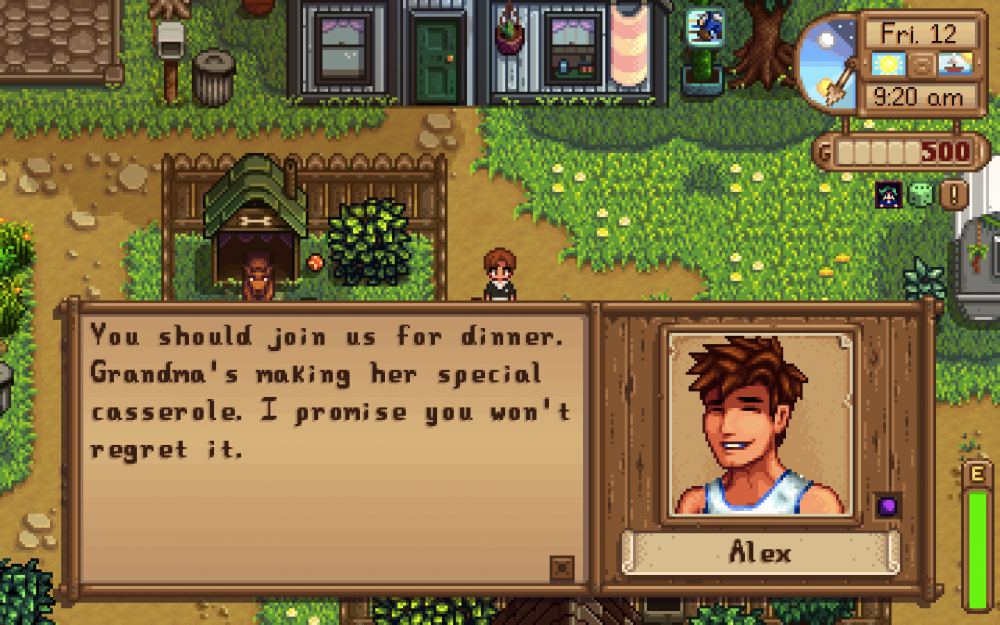 If you're looking for a revamped dialogues for Alex, this is the mod you're looking for! It contains over 75+ dialogues including seasonal (plus interactive conversation).
Revamped Dialogues: For Alex is the first mod project (called "Revamped Dialogues") that I've created for
Stardew Valley
1.4. This will gives you additional dialogues that will make his character more interesting (plus you'll get the chance to interact with him that will affect your friendship points.)
As of now, this mod is compatible with any mods -
Please let me know if it doesn't!

In order for this mod to work, you'll need:
Mods that are used in the screenshot:
Installation:
Download the latest version of SMAPI by Pathoschild
Download the latest version of Content Patcher by Pathoschild
Unzip Content Patcher and put it in Stardew Valley\Mods
Download Revamped Dialogues for Alex and put it in Stardew Valley\Mods
Importants:
This mod doesn't replace vanilla dialogues for Alex
Does not alter/add any heart events
Future Updates:
Additional heart events
More interactive dialogues
Upcoming Projects:
As this is my first mod, I'll be releasing another batch of revamped dialogues from each bachelor/bachelorette within the near future.
Special Messages:
I would like to personally thank everyone in the discord server that helps me to make this mod a reality. Also, thanks to Lemurkat who helps me with the dialogues.
Also, if you have any suggestion regarding this mod, you can find my tag on discord (Wren#0001) and send me a direct message as I will try my best to update this mod from time to time.