Hello everyone.
So I've never really done one of these Valley Showcase things, so I decided to do a semi-progression log, where I take a screen of the farm each month and kinda just let the pictures speak for themselves mostly. However, I've done a couple things a bit differently in this farm.
1) I have restricted myself to not going into the mines nor fishing at all until I'm level 10 in the respective category.
2) This is something I do often but I pretty much turn my farm into a forest...on the standard map... I don't get all the perks of the forest farm but it produces MUCH more wood if done properly. But, there's not really an "improper" way to do a forest (aside from cutting all the trees down).
That being said, this farm, so far, has had quite a few difficulties. Being that I'm not going into the mines, I have to buy all the ore from clint himself. If you notice I do have charcoal kilns set up, which work perfectly with the forest, but not having easy access to ore means that the cost of upgrading a tool is almost multiplied by 2 for each one (i'll let you do the math if you want specifics, it's not that hard). That means that my Spring 1 farmhouse is most definitely out of the question, and by the end of summer I have only eaten Field Snacks and the rare Autumn's Bounty from the CC. No wonder my guy is exhausted all the time.
However, the fact that I have an Iron Axe at the end of Summer 1 i'll take as a small credit, considering how much iron and copper cost me (also if you look closely you'll see that I've got my Apple and Pom trees started at the end of Sum1, so that's a thing as well). But speaking of copper, it is much to my annoyance that it's been 2 seasons and the tapping grove that I started still hasn't matured yet. Very annoying... Anyways, I'll let the pictures speak for themselves and the discussion can take whatever course it desires. Cheers!
(I'll keep this OP updated with new pics as I post them. Ultimately, the pictures are intended to eventually be flipped through like one of those pictures books where you just flip the pages all fast and stuff and it creates a moving picture, but we'll see how that works out. Prior to this I did 2 years and i thought it looked pretty cool, so i figured I'd share this new farm with you guys.)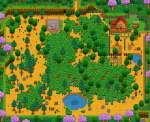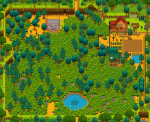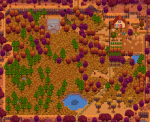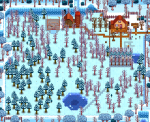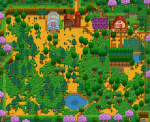 Last edited: