I didn't know that Hill-Top was seen as extra hard when I chose it for my second farm, I just knew I wanted this farmer to focus more on mining and quarrying. So I was a bit thrown by how hard it seemed to be compared to the standard farm to fit everything in. I rearranged things right up to winter year 7, including a stretch where I sold all my barn animals and had no barn at all, and later one where I tried to move it to the area in front of Grandpa's shrine. And I didn't start *decorating* until year 6. I've basically left the entire bottom corner to slimes and trees grown exclusively to cut down. And I recent chopped my only full sized mushroom tree so right now there's only a teeny seedling in front of the hardwood grove. (By the greenhouse). I was going to get rid of the extraneous tappers by the fishponds once the tapper grove by Grandpa's shrine grew to its full extent, but I haven't been able to think of anything I want to do with the space, since it's so skinny. Suggestions welcome.
VIsible mods: Elle's Seasonal Buildings (the "Winery" is just the slime hutch with a deceptive name), Submerged crab pots, Goddess Statue Obelisk, Owl Scarecrows, Aries' Secret Statues (Turns the weird hidden statues into the cute girls by my lightning rods), multiple mini-obelisks (if you look close you'll see three, and a fourth is inside the greenhouse), custom spouse patios.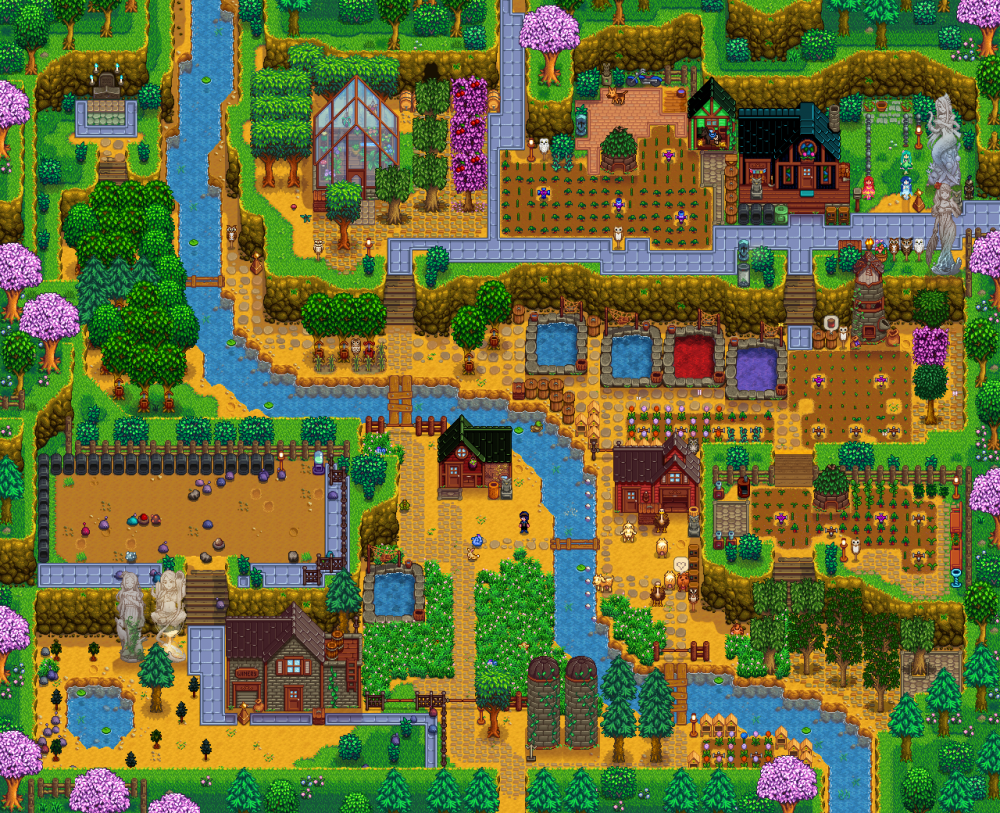 Interior; on a rainy day so we're all together inside. I think the only visible mods are multiple spouses (I didn't update to free love because I don't intend to use it next farmer), Diverse Stardew Valley if you look closely at the sprites, and better ranching to explain why Huscarl the dog has an empty heart word-bubble floating over his head. I actually have two more garden pots beside the bone mills now, with rare seeds in them.
The master bedroom actually had an even more gothy-dungeon flagstone floor originally, but Abigail changed the flooring and I let it be (She's also responsible for there being a cute pink chair...). The kitchen was supposed to be more beach-themed still, with another table and shells as decorations, but I didn't like the sheer clutter once I added the latest kegs.